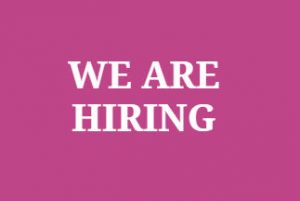 We are hoping for a bigger team of recruiters who share our passion, so here are 1o reasons why we love what we do.
1. No two days are alike
Unlike some jobs, recruitment is always varied. One day you could be meeting with a prospective client to discuss their requirements, and the next day you are at a job fair or event talking to potential candidates.
For example, duties include
 Pre-screening and registering candidates
Managing existing business to a high standard
Providing an excellent service to all our clients and candidates to meet their required needs
Search and gain new leads
Developing new business and attending sales meetings
Sourcing a full range of candidates for specialist roles through various searches
Matching candidate CVs to clients' vacancies
Preparing CVs and profiles to send to clients to help fill their vacancies
Working towards targets and going over and above to work as a team within the office.
2. Meeting people
You get to meet people from all walks of life and we love the sheer diversity.
3. Helping people
The buzz of placing that candidate with all the hard work paying off is unbelievably rewarding. You have improved their life by placing them in that dream job and that truly feels great.
4. Helping businesses
Just like the individuals who you've helped place, the company will be incredibly grateful to have a fantastic employee. Especially one who fits into the team so well and is a true asset to the company. It is not like the sale of the product.
5. Exciting
Recruitment is a fast paced, ever-changing environment so you will never be bored.
6. Learning skills
Your skills will be always valued and in need as some form of recruitment is required for every industry. This means your future career is secure.
7. Ability to specialise

Within these industries, there are countless opportunities for niche markets. Becoming a specialist means being well trusted and relied upon by all these businesses.
8. Money
Hard work is rewarded – usually financially – and that is a motivator to keep working hard and enjoying it.
9. Freedom to get on with it
Once you know what you are working towards, you can get there however you like. Recruiters are generally trusted to work autonomously and knowing trust is in place is very rewarding
10. Thriving on competition
We are the type of people who loves the thrill of always being kept on our toes and delivering against the odds.
If all these things appeal to you too, get in touch about joining our team now!
https://usercontent.one/wp/ewrecruitment.co.uk/wp-content/uploads/2021/02/ew-logo.png?media=1648466345
220
220
admin
https://usercontent.one/wp/ewrecruitment.co.uk/wp-content/uploads/2021/02/ew-recruitment-logo.png?media=1648466345
admin
2019-01-09 11:37:05
2021-04-05 10:23:00
Got what it takes to join us?