Experienced 2nd Line Support Technician needed to support the IT infrastructure of customers and maintain the internal I.T systems.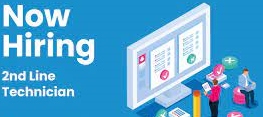 Duties include:
Reply to first line support or end user issues via phone, email or face to face
Once gaining an understanding of the issue you will resolve the problem step by step with both the first line support staff and end user or escalate to third line support when required
Constantly develop familiarity with software and hardware technologies used
Work with the I.T Manager and the support team to address common technical problems and ensure any training or documentation requirements are implemented
Ensure the ticketing system is up to date
Log everything both effectively and efficiently
Retain a customer focused approach
Disciplines and Experience Required of experienced 2nd Line Support Technician:
Experience in configuring and managing backup solutions.
Experience configuring and managing firewall settings.
Great knowledge of domain environments including GPO administration, NTFS permissions, security settings, certificate management, advanced DHCP settings, resolving DNS issues.
Thorough comprehension of AD – Ability to setup AD, make changes, migrate to new servers, diagnose & resolve problems.
Excellent workplace upkeep/troubleshooting – Capability to deal with any problems arising from supported environment
Great network understanding – All characteristics of routers, switches, AP's, network protocols, fibre links.
Good understanding of virtualisation.
Interested ? We are dedicated to providing you with the best personal recruitment service. Please contact us  and we will be there every step of the way to help you in the process, providing you with support on how to prepare and impress.  Check out  our tips, hints and support article and remember to follow and like our social media for more help with your job search.
https://ewrecruitment.co.uk/wp-content/uploads/2021/04/network-icon.png
512
512
admin
https://ewrecruitment.co.uk/wp-content/uploads/2021/02/ew-recruitment-logo.png
admin
2021-04-19 19:15:32
2021-04-19 19:16:28
Experienced 2nd Line Support Technician